From Code Blue to Code Green!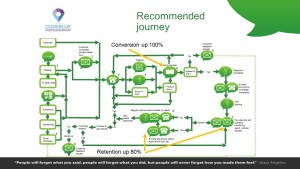 A year ago, I met Russell Goldthorpe from Codeblue Communications (www.codebluecomms.co.uk). They help other businesses communicate better, but he didn't think they were perfect. He thought they could get better at converting leads and retaining customers.
He asked if I could help – and seemed puzzled when I said I didn't know. Then I explained I would only know when I had mapped his customer's journeys!
So that's what we did. We held a two hour workshop with Russell and his team. Then we produced a report with journey maps, any issues and our recommendations. Finally we had a further one hour meeting with Russell to explain the report. He then started to make the small changes we had suggested.
I met up with Russell again recently and asked how things were going. Quite well he said – his lead to sale conversion ratio has doubled and customer retention is up 80%. In the last six months he has taken on two new staff and plans to hire another soon – all by making a few small changes! And now he looks for improvements all the time, especially through customer feedback.
To talk to Russell about better communication, or to find out what he thinks of me, call him on 01484 441469.
Keep in touch for regular advice and practical examples about customer experience.
Get in touch to see how we can help your business.
Ask an expert if you have a specific question about customer experience.
---